Welcome to Klassiek op de Campus! – the perfect opportunity to experience the magic of classical music. Our festival takes place on Sunday the 4th of June from 12:00 to 19:00 on the campus of the Technical University here in Eindhoven!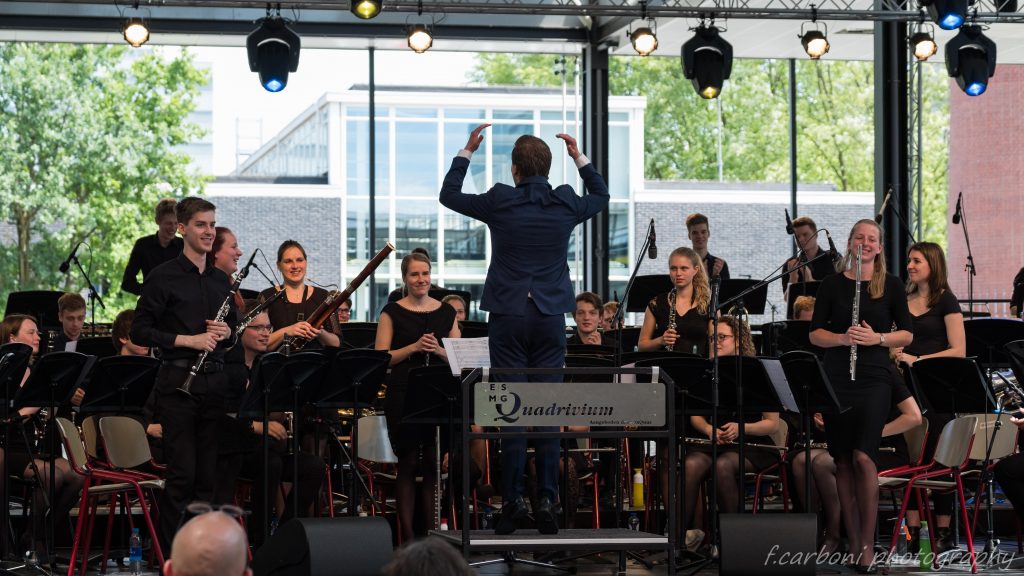 The festival features a diverse range of orchestras and classical talents. Our student orchestras from all over the Netherlands will take you on a musical journey that will leave you feeling uplifted and inspired.
But our festival is not just about listening to music – it's also about engaging with it. That's why we offer a range of workshops and opportunities to play instruments, designed to engage and inspire children and adults alike. From learning the basics of an instrument to dancing a waltz with a string orchestra.
We believe that classical music is for everyone, and we are passionate about making it accessible to all. That's why our festival is completely free of charge, so that everyone in the community can enjoy the beauty of classical music.
So come and join us for a weekend of wonderful music, community spirit, and the chance to experience the magic of classical music. We can't wait to see you there!
The exact program times and details can be found here: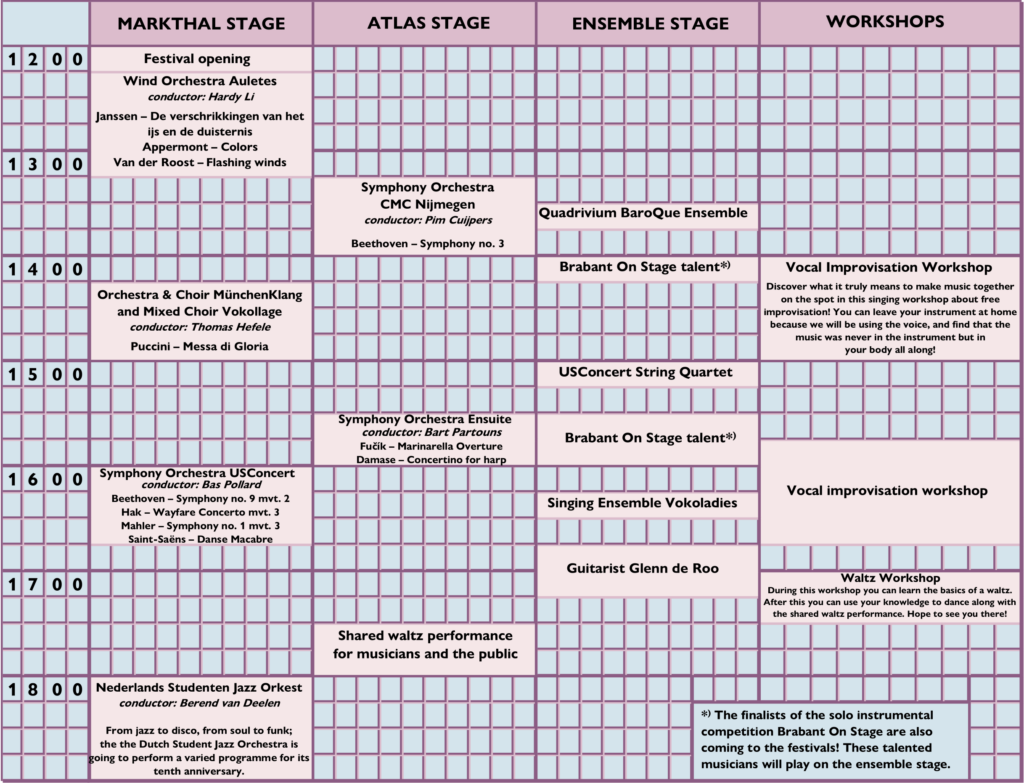 The layout of our festival terrain can be found here.
Workshops
During the festival, two different workshops are offered for young and old. The workshops are aimed at introducing the participants to different ways to interact with music. This year, the workshops are a waltz workshop and a vocal improvisaton workshop!
The workshops are completely free, but you must register in advance. If necessary, this is also possible on the day of the festival, but the capacity of the workshops is limited.
Waltz Workshop
In this workshop you will learn the basics of a waltz under the guidance of a string orchestra. After this you can immediately use your new knowledge to dance along at the joint performance at 17:30. See you then! This workshop takes place from 17:00-18:00 including performance.
Subscribe to the Waltz Workshop here!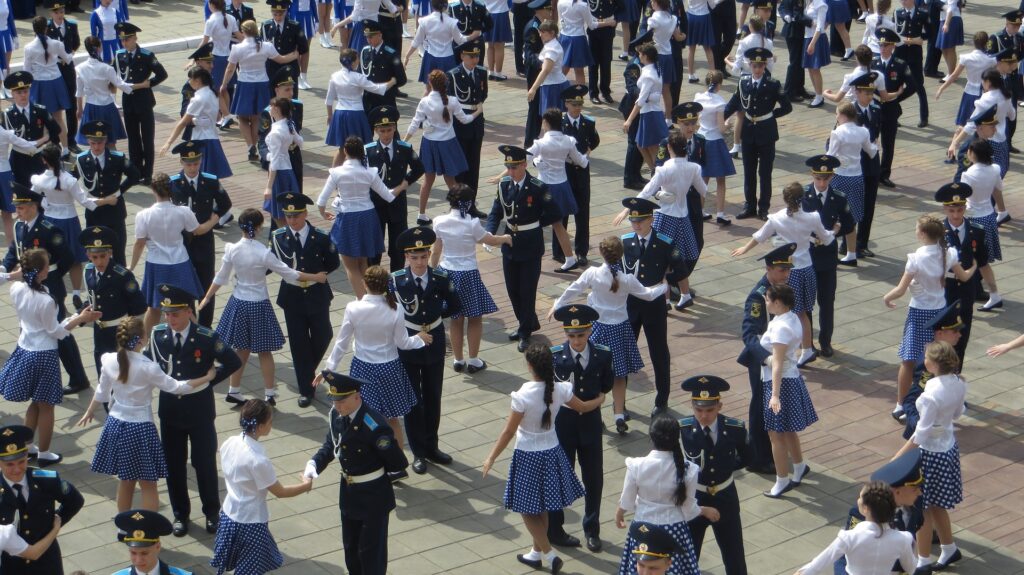 Vocal Improvisation Workshop
In addition to a waltz workshop, we also offer a vocal workshop. Discover what it really means to make music together on the spot in this singing workshop about free improvisation! The workshop is conducted by Afke Flaviana, a Jazz Vocalist studying at the Music Academy in Tilburg. This workshop takes place from 14:00 to 15:00 and from 15:45 to 16:45.
Subscribe to the Vocal Improvisation workshope here!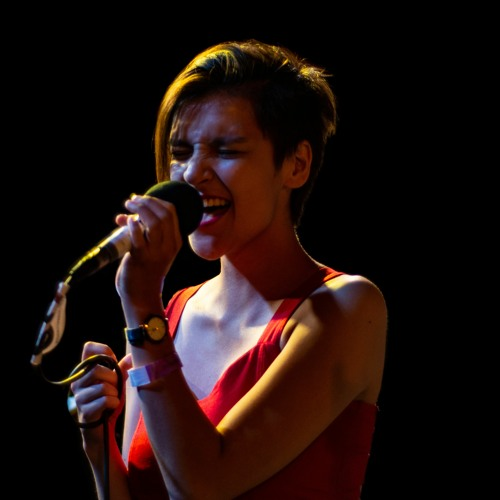 The 2023 edition of the festival Klassiek op de Campus is planned the campus of Eindhoven University of Technology! We hope to see you all then. We're looking forward to it!
For any questions, don't hesitate to contact us via e-mail at info@klassiekopdecampus.nl.
About the festival
Klassiek op de Campus is a festival for classical music that is free for all to visit. This year the third edition of Klassiek op de Campus takes place. It is the spiritual successor for the festival Muziek op de Dommel that was held for the last time in 2017. The festival is organized just like the first occurrences of Muziek op de Dommel by Quadrivium, the student music association in Eindhoven. Spread out over 3 stages, student orchestras and choirs from all over the Netherlands and outside will perform their repertoire. Aside from the music you can also enjoy food and drinks and children can play in the kids music garden.
Volunteering
Klassiek op de Campus wouldn't exist without the help of volunteers. That is why we are looking for enthusiastic volunteers who want to help us out on the coolest festival of the Netherlands!
Besides the fact that it is fun to work in one of our volunteer teams, you can also see large parts of the festival program and you work for one of the most accessible cultural happening in Eindhoven. We will provide you with food and drinks during the day and you will get the exclusive Klassiek op de Campus volunteer t-shirt.
For Klassiek op de Campus 2023 we'll again need a lot of enthousiastic volunteers. Are you interested in helping or would you like some more information? Visit this form for more details and for signing up. It is also possible to help for just a short time and then just enjoy the rest of the festival.